Ok folk, I haven't had much originallity in me the last couple of day. Jennifer over at
Sob'ah My Soul
posted some pictures of herself growing up and I thought you might like to see how precious I was at one time too.
This picture of me and my brother was taken when I was taken when i was about 10 months.

Look at those big brown eyes! I was two and a half.
I remember when this picture was taken right before I was four. It was a Friday night at Walmart and a black man (the first one I ever saw) was taking the pictures. He was nice but I was a little nervous and was chewing on my bottom lip. I was shocked that he asked me why I chewing on my lip because I didn't think he knew!
This picture was taken about 6 months later at my grandma's house. Do you like my PINK POODLE PANTS?!?!? The red barn wasn't my grandmothers but I still think of her when I see red barns.
After the 6th grade graduation there was a party at the college. I don't remember how much each picture cost, but Kristi and I spent a lot of time in front of that camera. I really really liked polka dots and my mom made a lot of my clothes that year.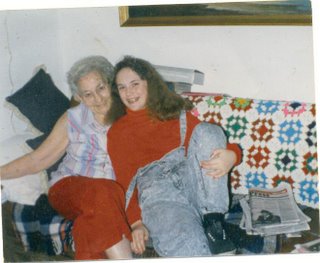 About a year later I was the victim of a bad perm (well... you couldn't really see it in the last picture but I had a bad perm then too). This was at least 7th grade because that's when I got the metal mouth. Remember when it was cool to wear just one strap of overalls? I don't really miss that style.
Flash forward to highschool. I think this was senior year. Haley and I have been friends for 12 years now and inseperable in high school.
Ok, another flash forward to age 19. My family tells me this was my skinny year. Probably because I lived on my own and couldn't afford to eat what I wanted. The beautiful little girl is my neice Allie.